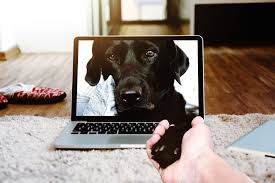 Which is the best camera for dogs will depend upon what functions you will require. There is a huge range available and it can be overwhelming trying to choose. Decide how you want to use the camera and what functions will actually need. Do you simply want to see what your dog is doing or are you wanting a device that can provide interaction between you and your dog?
We have put together this list of dog cameras ranging from simple cameras with minimal features up to the full function gadgets that have a full range of features. These even include a treat dispenser so you can reward your dog. These devices allow more direct interaction with your dog. They are as close to actually being there with your dog as possible.
Our Top Picks
Best Low-Cost Dog Camera – Zmodo EZCam
Best for 360-Degree Monitoring – YI Dome Camera
Best Range of Functions Overall – Furbo Treat Tossing Camera or Pawbo Pet Camera
Pet Camera for Dogs Reviews and Details
The Zmodo EZCam provides real-time video footage of your dog and has two-way audio which allows you to talk to them. Very useful if they are up to no good or just to say hello. It provides a clear, sharp video both day and night. Advanced night vision allows you to see clearly in low light conditions.
Also allows video recordings on The Cloud which allows you to watch later just what your dog gets up to when your not home or share with friends and family. The cloud service features 24/7 intelligent recording with no storage limit, motion alerts, flashback. The video editing tools mean you can customize, share or download footage at any time.
Ideal option if you are wanting a low-cost device which allows basic interaction with your pet.
What makes this camera different from the rest is the 360 degree which allows you to see the entire room where your dog is. You can also bookmark your favorite positions (up to 8) and return to them at the tap of a button. Ideal for quickly checking if your pet is in one of their favorite spots without having to search around.
Also has two audio for talking to your dog which is hands or paws free your dog can talk back. Has advanced night vision so you can see what your dog is up to even after dark and like the Zmodo EZCam is ideal for basic interaction and monitoring of your dog and cost wise is very reasonable being only slightly more expensive than the Zmodo EZCam.
Petcube Bites is full of features. It generates 1080P HD video and has a 138-degree wide-angle lens to catch all of the action. The camera even has a night-vision function, which will allow you to see what your pet is doing when the lights are off.
The treat dispenser for the Petcube Bites Camera works with a variety of different treats. The treats are distributed singly or in groups of up to five. Larger treats usually come out in smaller quantities.
Petcube Bites also has sound and motion detection. Get instantly notified of major disturbances in your home by notification straight to your phone. You can have optional cloud recording service Petcube Care. This enables you to capture videos of what is going on in the home and the best moments of your dog's day.
You are also able to connect several Petcube units together for multiple room viewing.
View Petcube Pet Camera on Amazon
Not only does the PetChatz allow you to see and speak to your dog. It also has a built-in monitor so your dog can see you.
You can control the camera from your smartphone, tablet or desktop. You can even record your dog's activities to view later. The PetChatz can also stream DogTV for those with a subscription to the channel. This is another way to entertain and stimulate your dog while they are home alone.
The PetChatz Camera also includes a treat dispenser to help attract your dog to the camera as well as an audible tone to get their attention. It also has a spray nozzle, which emits a fine aromatic mist. This is to soothe and calm anxious puppies and dogs. The only downside with this unit is that you must use PetChatz treats only in the unit
View PetChatz Camera on Amazon
The Pawbo Pet Camera and Treat Dispenser have multiple functions. Works with smartphones, computers, or tablets. The Pawbo allows you to hear and speak with your pet with the built-in two-way radio, give your dog a treat with the treat dispenser. In addition, you can play a game with your dog with a built-in laser pointer.
You are able to have several units throughout the house and manage from one device. It also allows multiple people (up to 8 people) the opportunity to interact with your dog. It has a 130-degree camera and you can record video to watch later. Alternatively, you can snap a photo also so that you can share it on social media.
View Pawbo Pet Camera on Amazon.com
The Petzi Treat Cam is a more simple no-frills option. It allows you to see and speak to your dog and dispense a treat. You can even snap a photo. This unit is wall mountable so not as simple if you want to move the unit around to different rooms.
The Petzi is accessible with your smartphone or tablet. Unfortunately, it can't be used with a desktop computer. Multiple people can log on at the same time to watch your dog in action. The camera is also designed to work with Petzi's social network which is a popular feature for many people.
View Petzi Treat Cam on Amazon
The Furbo Dog Camera provides most of the functions that other treat-dispensing cameras do. However, it does have functions that a lot of other competing products don't have.
This treat-dispensing Dog Camera not only allows you to keep an eye on your dog or give her the occasional treat. It also automatically detects the presence of people. This is a great bonus for home security as well. The Furbo can even take selfies of your dog automatically when it detects your dog looking straight into the camera!
It is a feature-packed pet camera and boasts a wider lens (160 degrees) than most other pet cameras do. It provides night vision capabilities for viewing your pet at night, as well as 4x optical zoom.
The Furbo Dog Camera features a microphone and speaker, which enable two-way communication with your pet. It also includes a bark sensor developed to specifically detect the sound of your dog barking. When the sensor is triggered, it sends a signal to your phone, which gives you the chance to check up on your dog and make sure everything is alright. With the two way speaker, you can talk to them to calm them down.
In addition, it has plenty of capacity for treats and can hold over 100 pieces.