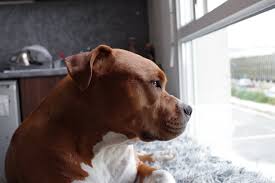 Can you leave a dog home alone overnight? Although this is not an ideal situation there may be circumstances where this can't be avoided. This may be a short overnight trip out of town or you get stuck somewhere and can't get home.
As long as you prepare ahead of time leaving your dog home alone overnight is possible. However, there are some things to consider and questions you need to ask yourself. A lot has to do with your particular dog.
Is your dog used to spending extended times home alone? Do you usually leave your dog home alone while at work or out for long periods of time?
Do they cope with this well or do they act up? This may include things like nuisance barking upsetting the neighbors or destructive behavior such as chewing the furniture.
Will your dog be able to go to the toilet? If they are well house trained an adult dog can hold their bladder for up to 24 hours. If they are used to being home alone all day this will not be a concern for them.
Does your dog have anxiety about being home alone? If your dog does have anxiety or isolation issues when left home alone anyway, being left overnight may be extra hard on them. See Anxiety in dogs left alone to learn more.
Does your dog have any sort of medical condition? If they do it is not advisable to leave them alone for too long of periods of time.
Do you normally spend the nights with your dog? If you normally spend the evenings close to your dog or they even sleep with you, it may cause them stress if suddenly your not there at night.
Are you comfortable with your dog being left home alone overnight? If it is something you are not comfortable with you will probably spend the entire time worrying and becoming extremely stressed out.
I myself had a situation where I ended up in the hospital for two days and nights. Luckily I had a neighbor who was able to let my dog out in the mornings into the yard and put her back inside at the end of the day. They also topped up her food and water bowls. When I returned home, she wasn't bothered by my absence at all. This is despite the fact that we spend most of our time together when I am not working and sleeps on my bed.
Ultimately it depends upon the individual dog. Some dogs may be perfectly relaxed about it all while others may be extremely stressed out. If you feel that your particular dog is not suitable to be left home alone overnight you have several options.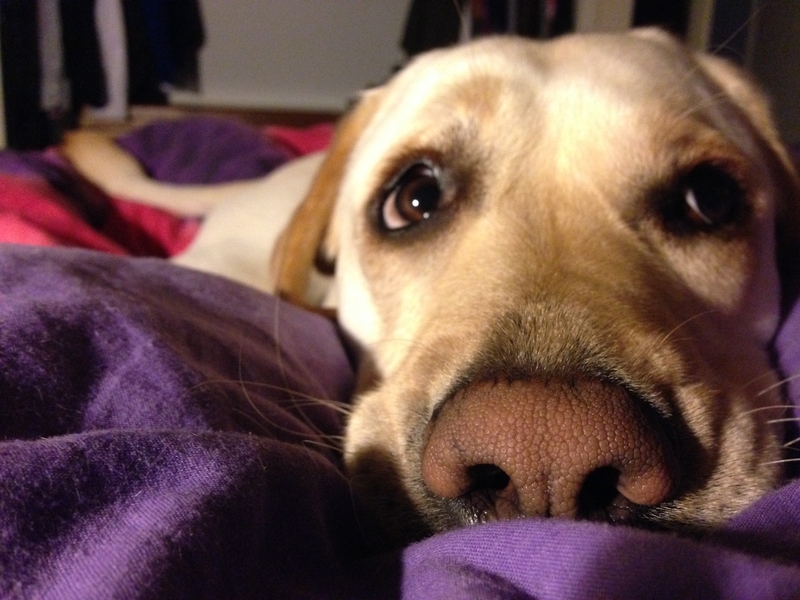 Alternatives to leaving a dog home alone overnight
You can put them into a boarding kennel facility. Remember however that even in that situation your dog will be in a cage overnight anyway. If they suffer from any separation or isolation stress or anxiety this probably wouldn't be the best solution anyway.
Leave your dog with friends or family. If this is a possible option it will save the expense of paying for boarding and your dog may feel more comfortable with someone they know. At the least arrange to have a neighbor, friend or family member pop in for a visit to check how your dog is going and to give them some company. Even if you are unable to have somebody check up on your dog it is often a good idea to speak to your neighbors and give them a contact number if there are any concerns.
Use a pet sitting service to look after your dog – either at their pet-friendly home or yours. Or at the very least have a pet sitter pop in to spend time with your dog.
What your dog will need when home alone overnight
You will need to ensure your dog has everything they need including food, water, a comfort zone, and toys and ways to keep themselves occupied. For a full guide for home alone dogs see Complete Guide to Leaving a Dog Home Alone.
A Comfort Area
This is an area where your dog can feel relaxed and safe. This may be a kennel if they are outside or a corner of the room if they are inside. Dogs feel more secure when they have their back to a wall when sleeping. This area should have their bedding and any blankets as well as their favorite toys.
Shelter/Confinement
For a dog that is outside, you need to provide for your dog shelter where they can go to sleep and get protection from the weather. This may be access to a garage or a kennel. The ideal size for a dog kennel is high enough for them to be able to stand and wide enough for them to be able to turn around comfortably. With a kennel that is too big a dog is less likely to use it as it doesn't give them a feeling of being snug and secure.
If confining your dog to the garage make sure they don't have access to areas in your garage where there may be toxic chemicals for your car such as antifreeze, gasoline, or sharp tools that could seriously injure or kill your dog.
If you are going to keep your dog inside you will need to consider whether they have the full run of the house or will need to be confined to a dog safe room. This may be the laundry room or a spare bedroom.
Food/Water
Ensure that your dog has adequate food for the time you are going to be away. It is best not to just leave them with access to all their food. They are likely to just eat it all straight away leaving them very hungry by the time you return.
It is best to use an automatic dog feeder with a timer so their meals can be available at the right time.
View automatic dog feeders on Amazon
It is important to ensure that your dog has access to fresh drinking water at all times. A standard bowl can accidentally be spilled or run dry. My personal recommendation and the bowl I use for my own dog is the Torus water bowl.
See Torus water bowls on Amazon
The Torus bowl stores up to 2L of water in its reservoir walls and filters it to remove any contaminants. Each time your puppy takes a drink, replacement water automatically flows from the storage area into the drinking well. The enclosed water storage area also aids to keep the water cool. There is no power or batteries required.
Another great option for water for a dog being left outside when you are not there is a self-filling water bowl that attaches to your hose. Alternatively, use a gravity feed water bowl.
Toileting
If your dog is not able to access their toilet area you may need to use an alternative method such as an artificial grass dog toilet or puppy pads. An adult dog can hold its bladder for up to 24 hours. However, you don't want to come home to a toilet accident and being forced to toilet inside may be stressful for a dog that knows better.
Grass pad potties may be a good option if your puppy goes to the bathroom outside sometimes, or if they will be doing so in the future. These are trays containing a layer of removable fake turf. Since they resemble the grass your puppy relieves themselves on outdoors, it helps reinforce the appropriate potty surface. They are usually on a plastic tray base that does also help with misses and spillage.
See options for grass pad potties on Amazon
Puppy pads are absorbent and usually lined to protect your floors. But they do have some shortcomings. The underside lining makes them slide across surfaces however some types do come with adhesive tape on the bottom to prevent this. They are also easily shredded which may be a fun game for your puppy but does defeat the purpose. They lack raised edges to prevent misses and spillover. You can get a plastic tray to put them on much like the fake grass potties.
See options for puppy pads on Amazon
Provide ways to keep them entertained and occupied
A bored dog can be very good at finding ways to occupy and entertain themselves. This often manifests itself in destructive or nuisance behaviors. This may include chewing furniture, exploring the contents of the trash bin or barking.
Ensure your dog as toys and activities that they can keep themselves busy with. For a full list of ideas to occupy and entertain a dog home alone see here.
Checking up on your home alone dog
There are several ways that you can check up on your dog even though you are not physically there.
Arrange visitors to drop in
Arrange to have a neighbor, friend or family member pop in for a visit to check how your dog is going and to give them some company. Even if you are unable to have somebody check up on your dog it is often a good idea to speak to your neighbors and give them a contact number if there are any concerns. Alternatively, there are many pet minding services that can provide this service for you.
Monitor them with a pet camera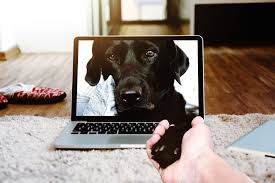 With a pet camera, you can check in with your dog and even have direct interaction with them. Many pet cameras have two communication so you can speak to your dog. They also have a microphone and can send notifications to your phone if your dog is barking. Other dog cameras can provide even more interaction including giving your dog a treat.
For the best pet camera for dogs see here.
Finals tips for leaving a dog home alone overnight
Make sure your dog gets some exercise before you go. This will help to burn off any pent up energy and give them the opportunity to go toilet before you leave. Your dog will be more relaxed if they are tired when you leave.
Consider also leaving a light on for them or having a light on a timer. Even though dogs can see in the dark anyway, this will may help them feel more relaxed.
Finally, provide some ambient noise for them in the background. This can be a radio at a low volume or you can even leave the television on.