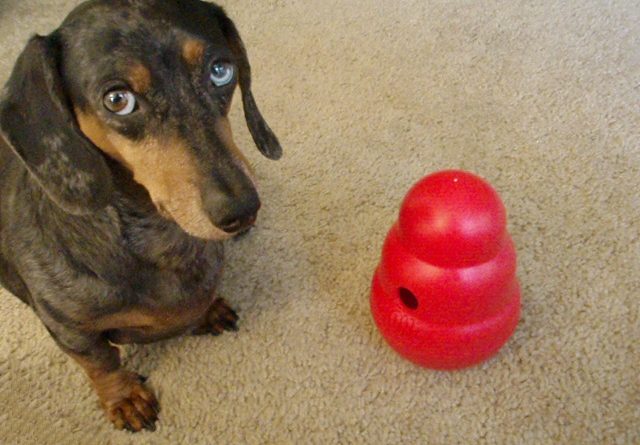 With any dog, the best dog toys are the one that caters to their natural instincts and traits. The Dachshund is relatively high energy, intelligent and surprising athletic. They can also be a little destructive so they need toys that are robust or even indestructible.
The Dachshund takes its name from the German word for badger (Dachs) and the German word for dog (Hund). Therefore Dachshunds are Badger dogs and were originally bred for badger hunting. As a result, they have a high prey instinct. To be highly effective as Badger hunters they needed the skill and athleticism to chase and corner Badgers.
They are also an earth dog. This means they are good at digging and burrowing to get to their prey in their holes. This digging instinct can sometimes become a behavior problem. This can result in your Dachshund digging up the garden or even the carpet and furniture. You can't really train a natural instinct out of a dog, but you can redirect the behavior.
Therefore, the best type of toys for Dachshunds need to cater to some or all of their natural traits and instinct. They need to be tough and robust, and to also stimulate their highly intelligent minds. In addition, they need to cater to their natural high prey drive and their digging instinct. Here are the best toys for Dachshunds.
Digging Toys for Dachshunds
Dachshunds can be real diggers. This can lead to destructive problems if they decide to dig up your favorite plants or carpets and furniture. By using toys that stimulate this digging instinct and direct it in a constructive way can help to solve this type of behavior problem. Here are my top suggestions:
The latest toy for dogs that dig is the iDig from the people that have brought you the iFetch automatic ball launcher.
This is the first dog toy that has been specially designed to cater to your dog's natural digging instinct. Ideal for Dachshunds. You simply hide their favorite toy or treats in the flaps and let them dig away to uncover the hidden treasure. Not only will the action of digging help burn off pent-up energy, but the mental challenge of working out how to get to the goodies will help to tire them also.
There are two types of iDigg available. The soft shell that is ideal for packaging up to make it easy to take with you when you travel and the hard shell.
Check out the video to see how this works or view the iDig Go on Amazon.
A Snuffe Rug is another great way to provide for your Dachshunds natural digging instinct and to provide mental stimulation and relieve boredom. A Snuffe mat is a mat that is made of fleece and you can hide dry food or treats into it.
If you are someone that is good at crafts you can try to make one yourself or check out the range of Snuffle Mats at Amazon.
If your Dachshund has a habit of digging up your yard, try a dig box for them. This way they can provide for their nature digging instinct without ruining your garden. Simply fill up a Sand Box with soil or sand, hide some chews or toys in it to encourage them to dig only there. If you choose to use sand be aware that the sand can get quite hot in the warmer weather. Just wet down the sand before allowing your dog to use it.
Check out the range of Sand Pits on Amazon.
Puzzle Toys for Dachshunds
Dachshunds are highly intelligent. It is crucial to provide mental stimulation and enrichment for them to prevent them from becoming bored and frustrated. The best way to provide mental challenges for your Dachshund is by using puzzle toys.
The iFetch Frenzy is the only dog puzzle toy that doesn't use treats. The ball itself is the reward. Your dog drops the ball into the top and scrambles to find it as it randomly rolls from 6-12 feet out of 1 of 3 chutes at the base.
There's no launching, like our other iFetch ball launchers but it still gives your Dachshund the opportunity to chase. This product allows dogs to quickly return to the real challenge: the mental game of guessing where the ball will appear next.
View the iFrenzy on Amazon.
The Kong Wobbler holds a good volume of dog kibble or treats to occupy your dog for a reasonable amount of time. Because of its unique shape your dog can bat it with their paws or nose sending it off in all directions dispensing food. It is also ideal for dogs that gobble down their food too fast or are on a diet as it makes them work for their food.
View the Kong Wobbler on Amazon.
The Buster Activity mat is a mat with press studs which you can attach different tasks and challenges too. You can also vary the difficulty of the individual tasks by either folding the task or leaving it open. The mat comes with three tasks included to get your buster activity started.
You can purchase additional tasks if the need arises. This makes this one of the more versatile of the puzzle toys. It is made from durable nylon and has a non-slip texture on the bottom to help keep it in place.
It can also be hand washed if required. If your dog is prone to chewing and destroying things this puzzle may not be the best choice.
What attracts me most to this puzzle toy is the versatility. I like how you can vary the level of challenge and add more challenges later if your dog is too smart.
View the Buster Activity Mat on Amazon.
It would be remiss to not include the Kong Classic in any discussion of puzzle and interactive dog toys. This toy was probably the greatest toy to happen to dogs since the invention of the bone.
The Kong has multiple uses. It provides a mental challenge to get the food and goodies out, is great just as a chew toy and because of its unique shape is great for games of fetch. When it bounces it flies off in unpredictable directions keeping your Dachshund guessing and making it like chasing real prey.
The Kong comes in a range of models including;
the Classic (the standard red one)
Puppy, which is a softer customized rubber suitable for puppy teeth and gums
Senior with specially formulated rubber for aging dogs
In addition, the Kong Classic comes in a variety of sizes from small to large. I recommend getting the Medium for a Dachshund. The smaller one tends to not hold as much food as you think.
The spinning bottles give your dog a good level of challenge and keep them entertained for long periods of time. As long as there is food in the bottles they probably will keep going. This interactive puzzle toy comes in two sizes but the smaller one is probably best suited for a Dachshund.
View Spinning Bottle puzzle on Amazon.
Chasing and Prey Toys for Dachshunds
Dachshunds have a high prey drive. This can lead them to want to chase anything that moves. When that something is the neighbor's cat it can be a real problem. These type of toy are not only good for mental and instinctive stimulation. They are also a great way to provide exercise and burn up pent up energy.
A Flirt pole is like a giant cat tickler for dogs. It has a long handle with a bungy type rope with a lure or toy attached to the end. You simply move the lure along the ground around in circles or in different directions as your dog chases it. It works directly with their natural prey instinct. Be sure they have a good leave it command and don't allow them to destroy the toy. This game is excellent for burning up that pent-up energy in a short amount of time.
View the range of flirt poles on Amazon.
Perfect balls for that game of fetch with your Dachshund as they combine lights, sound, and movement to make it more like chasing prey. The ball features small grip holes so your Doxie can pick it up and move it around.
These balls make teasing sounds and slightly throb resembling the feeling of live prey. They have a high bounce making them great t chase. With the lights, they are easy to see even in the dark. Don't worry if you lose one as they come in a pack of three.
See LED High Bounce Balls on Amazon.
If your Doxie loves a good game of fetch but you grow tired of having to throw the ball over and over an automatic ball launcher is the answer. With an Automatic Ball Launcher, they can play fetch by all by themselves. This will require training them to put the ball in the funnel initially, but once they know what to do they are away and fetching.

See Automatic ball launchers on Amazon.
Chewing is good for all dogs. It not only helps to keep them occupied. It also helps to soothe and calm them. When a dog chews it releases endorphins to the brain giving them that feel good and relaxed feeling. Dachshunds can be quite destructive so it is important to select chew toys that are tough and they won't destroy in minutes.
See Chew Toys for Dachshunds on Amazon.
Toys for Dachsunds that shred
Many Dachshunds like to get stuck into plush toys and rip them apart and shred them. This is due to their strong prey drive as this represents the act of killing their prey. This becomes a problem when they chose to use your shoes or similar items. By providing them with appropriate toys this can be avoided.
If your Dachshund has a thing for plush toys you have probably had the experience of cleaning up all the stuffing they have ripped out. The two solutions to this problem are either plush toys without stuffing or plush toys that are indestructible.
Here are my top picks for the toughest nearly indestructible plush dog toys that your Doxie will love.
The Tuffy range is known as the toughest soft toy for dogs. Tuffy plush toy range combines durability with softness. This is accomplished with seven-layer stitching, multiple tough outer layers of material and a fleece inner lining. They are also machine washable and float.
Check out the Tuffy plush toy range at Amazon.
This range ticks all the boxes being super tough has no stuffing for you to clean up and also have invincible squeakers in them. Even if the squeaker is punctured they continue to work.
Check out the range of Outward Hound Invincibles here at Amazon
Dog toys that move
Dog toys that move, either on their own or with interaction with your dog are made for Dachshunds. Many of these also vibrate and make noises. They are great for directing and stimulating their natural chase and prey instinct. Here are my suggestions for dog toys that move.
The Doggie Tail vibrates and jumps to stimulate your dog. It also makes intriguing sounds to further engage them. It requires 3 AAA batteries and will shut off after a period of inactivity to prolong battery life. If your dog damages the outer material you can get replacement covers. It also comes in different styles including Crab, Hedgehog, and Owl.
The Zeus Bulldog barks, shakes, bounces, and rolls in an unpredictable way. It comes complete with 3 AAA batteries. The cover is machine washable for when it becomes covered in slobber and grim.
Wicked Bone is an interactive smart dog toy that plays and interacts with your dogs. You will be able to set it to Drive Mode where you can control it with your mobile phone, or set it to Interactive Mode for the toy to auto-play with your dog.
The Wicked Bone adapts to your dog by way of 12 types of emotional driven systems. It acts responsively to different types of touch, such as chasing, teasing or avoiding and so on.
With the Wicked bone App, you can set different parameters such as speed, swerve, acceleration for playing indoors or outdoors, as well as adjustable sensitivities for playing on hard or soft grounds.
The Wicked Bone operates on Bluetooth with a connection range of up to 30 50 feet.
If your dog is ball mad then the Wicked Ball is the ultimate moving dog toy for them. The magic ball runs and bounces all by itself and the LED light adds another level of engagement for your dog. No App or remote controller required.
It has several settings such as the Intelligent Companion mode. In this mode, the Wicked ball has 10 minutes of play and 30 minutes of rest. If your dog pushes or hits the ball it starts the play cycle again. It also has three reaction modes (gentle, normal, active) so you can set it to suit your dog's mood.  Due to its obstacle avoidance system (collision sensor), it doesn't get stuck in tight spots.
It has several settings such as the Intelligent Companion mode. In this mode, the Wicked ball has 10 minutes of play and 30 minutes of rest. If your dog pushes or hits the ball it starts the play cycle again. It also has three reaction modes (gentle, normal, active) so you can set it to suit your dog's mood.  Due to its obstacle avoidance system (collision sensor), it doesn't get stuck in tight spots.
View the Wicked Ball on Amazon.
All of these toys have been selected as they cater to some or all of the natural instincts and traits of Dachshunds. They will help challenge their highly intelligent minds, burn off pent up energy and stimulate their prey and digging drives.
I am sure you can find some toys on this list that are absolutely perfect for your Dachshund.