How to choose the best clippers for your needs
Dog grooming clippers fit into two main types
A fixed blade that has a blade that may have a minimal adjustment but can be removed for sharpening and replacing. These are generally of lower quality and power and are not a good choice if you are planning to do the full groom on your dog. They are OK for doing tidy work like clipping under the paws or sanitary clips.
Detachable blade clippers that have blades that can be clipped on and off giving you a variety of length choices and work well with guide comb attachments also.
The important thing to remember is you want clippers that have adequate power for the type of coat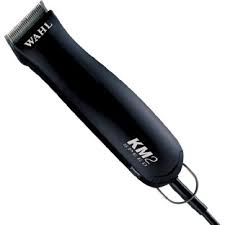 you are using them on. Underpowered clippers will chew at the coat being uncomfortable for your dog and giving a poorly finished cut.
Power is determined by two things – the power of the motor and the speed of the clipper or RPM (rotations per minute). This relates to the speed the rotor lever moves the cutting teeth on the blade.
The first thing you need to determine is exactly what you wish to use the clippers for. If you are only wanting to do tidy work such as a sanitary trim, under the paws clipping, clipping a fine coat, or a light trim a lower cost of basic clippers will be sufficient. If you are wanting to do a full clip on a medium to thick coat it is best to select clippers that are powerful enough to do the job.
The first and most important step in DIY dog grooming at home is to get the right gear. Selecting equipment that is not right for the job at hand will make the task more difficult or even impossible causing distress for your dog and even resulting in you giving up altogether. Selecting clippers purely on price alone often is a false economy.
For other any equipment you will need for grooming your dog at home see DIY dog grooming tools list here.
Best dog clippers for DIY dog grooming at home reviews
PetTech Professional Dog Grooming Kit
Key Benefits
Lifetime replacement guarantee makes purchasing essentially risk-free
Runs very quietly even at high speed
Cordless with a rechargeable battery
The one warning I must give with this clipper is it doesn't have the power of some of the other reviewed here. This means that it will not be suitable for very thick or matted coats and you will need to bath and brush your dog out fully before using. It is ideal for thin to medium coats.
If you are looking fo
r a complete beginners grooming kit at with everything you need to be included, the PetTech Dog Grooming Kit is the best value for money you will find.
It comes with many comb attachments, scissors, nail clippers, etc and is impressively low-priced, and carries a lifetime warranty. That's incredible at this price-point and makes it so that this kit is an excellent option for someone looking to dabble in dog grooming for the first time.
View PetTech Professional Grooming Kit on Amazon
Wahl KM2 2 speed clipper
Key Benefits
Lightweight yet powerful clipper set.
Professional 2-speed rotary motor.
Quiet operation with 3,000 and 3,400 SPM.
Cuts through the toughest coats.
Heavy-duty grounded power cord.
The Wahl KM2 which are a 2-speed clipper with a 45w motor and a slow speed of 3000 rpm and high-speed of 3400 rpm. They also have a very comfortable shape for holding. The advantage of a two-speed clipper is that the blade doesn't run as hot at the lower speed
There are other models in the Wahl range like the KM5 and KM10 and are generally used by professional groomers. These have faster rpm speed and are a little more expensive. For the difference in price, I would recommend the KM2 as it is more than powerful enough to clip the toughest coat including breeds like spaniels and even matted coats.
Wahl Professional Animal KM2 Deluxe Dog Pet Clipper Kit #9757-1001
This set comes with a #30 blade. It is important to understand that #30 is suitable for use with the included stainless steel attachment guide combs, but is not suitable to clip the body directly. It is far to short for this purpose. The shortest blade you should use on a dog's body is a #10 which is around 1.5mm in length. Other blade lengths are available either at Amazon here
View the Wahl KM2 Deluxe Clipper Kit on Amazon
Andis Pro-Animal 7-Piece Detachable Blade Pet Clipper Kit
Key Benefits
powerful rotary motor makes it ideal for dogs with heavy, thick coats.
rpm of 3700
comes with #10 blade and 4 attachment combs
Andis is a quality brand used by professional groomers.
lower price compared to other clippers in the Andis range
This is ideal if you are wanting a lower cost clipper that is still able to cut thick coats.  The powerful rotary motor is quiet to keep your dog calm during the grooming process. It is also built strong to withstand years of use as you would expect with any Andis product. It uses detachable blades for ease of changing to different cut lengths or cleaning.
View Andis Pro-Animal Pet Clipper Kit on Amazon
​​Andis ​Ultraedge 2 ​Speed ​Clipper
Key Benefits
3400 rpm and 4400 rpm so it has all the power you need to get through the thickest of hair.
 maintenance free – no oiling or greasing of internal parts is needed
includes #10 detachable blade

cool and quiet running; Frequency: 60 Hz

2-speed sealed rotary motor runs cool
If you are wanting clipper like the professionals use while still being a reasonable price this clipper is perfect. Has no shortest of power and will cut effortlessly through any coat. This is a truly high-quality clipper that will last a lifetime and is suitable for all coat types including extremely thick or matted fur.
If you are wanting to use a different length guide combs and different length blades these can be bought separately.
View Andis AGC Professional clipper on Amazon
Wahl ​Pro ​Series ​Rechargeable ​Pet ​Clipper ​Kit
Key Benefits
Corded or Cordless function available
Comfortable and ergonomic grip, easy to handle
​5-year warranty with a 1-month satisfaction guarantee
Ideal for light trimming and touch-ups between professional groomer visits with clippers that work with or without the cord. Also suitable for doing full grooms on thin to medium coat types.
These clippers work best on fine to medium coats. This is a complete 14 piece kit that comes with four detachable plastic guide combs, scissors, comb and clipper oil all in a hard carry case.
View Wahl Pro Series Rechargeable clippers on Amazon
Free Advice
With the numerous options available in selecting the right clippers for your use it can be extremely confusing. Many reviews of dog clippers on the internet have been written by people who have probably never used a pair of dog clippers in their life. I have had 22 years of dog grooming experience and have personally tried most types of dog clipper.
If you are unsure about which clippers are best suited for your use and budget feel free to ask me any questions in the comments below